Title: The Empty Christmas Stocking
Author: L.M. Haynes
Publisher: L.M .Haynes Publishing
ISBN: 978-1088087992
Pages: 26
Genre: Illustrated Children's Books
Reviewed by: Jack Chambers
Pacific Book Review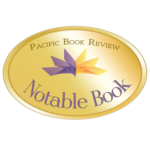 When it comes to the holidays, there are many things a person can be excited by. The promise of hot cocoa, shared with a loved one by the crackling fire. The fresh blanket of snow that will undoubtedly fall over some people's homes. The joy of watching someone you love opening a gift with delight. Yet for all of these warm and wonderful things, something that always stands out as the reason for the season is the act of giving. The moment we step back as a people and search for those who need a helping hand or a reminder they are loved this holiday season.
In author and illustrator L.M. Haynes children's book, The Empty Christmas Stocking, the author seeks to instill this lesson to children and parents alike through both faith and warm illustrated moments. Following the small New England village of Trinity, the Teagarden family finds themselves preparing for the holidays when it strikes them that one person has yet to have a stocking placed by the fire and filled with gifts. Knowing they have to rectify this, the children and their parents must band together to find compassion, forgiveness, and friendship in time to bring joy to the person for whom the stocking belongs.
The author does a wonderful job of crafting a book that both entertains and educates children. The heartfelt emotions and endearing lessons the narrative teaches to readers will stay with parents and their children long after the book finishes. The heart the author puts into both the story and the illustrations showcases the dynamic theme and hope that the narrative touches upon throughout the book, and allows for a bonding moment between the parent and child which reflects the holiday spirit.
This is the perfect read for those who enjoy children's stories, especially those that are fast paced and touch upon Christian themes. The way the author is able to utilize his faith to help instill these important lessons into the lives of the characters, and the memorable way the experiences the children have helping their community bring out both joy and selflessness within the characters, make for a beautiful and heartfelt story.
Memorable, fast, yet engaging, author L.M. Haynes's The Empty Christmas Stocking is a must-read children's book, especially during the holidays. The simple yet compelling illustrations will both delight and inspire the children when balanced with the emotional narrative, and the themes will call out the best within us all as parents share an incredible bonding moment with their children through this heartfelt book.